Microsoft Endpoint Management
Endpoint security, device management, and intelligent cloud actions in a unified management platform.
Manage your endpoints
Microsoft Endpoint management through Configuration Manager and Intune allows yo you to manage devices whether they are on-premises or remote, corporate-owned or personal, desktop or mobile.
Microsoft has unified these endpoint management technologies under Microsoft Endpoint Manager. A unified management platform for endpoint security, device management and intelligent cloud actions.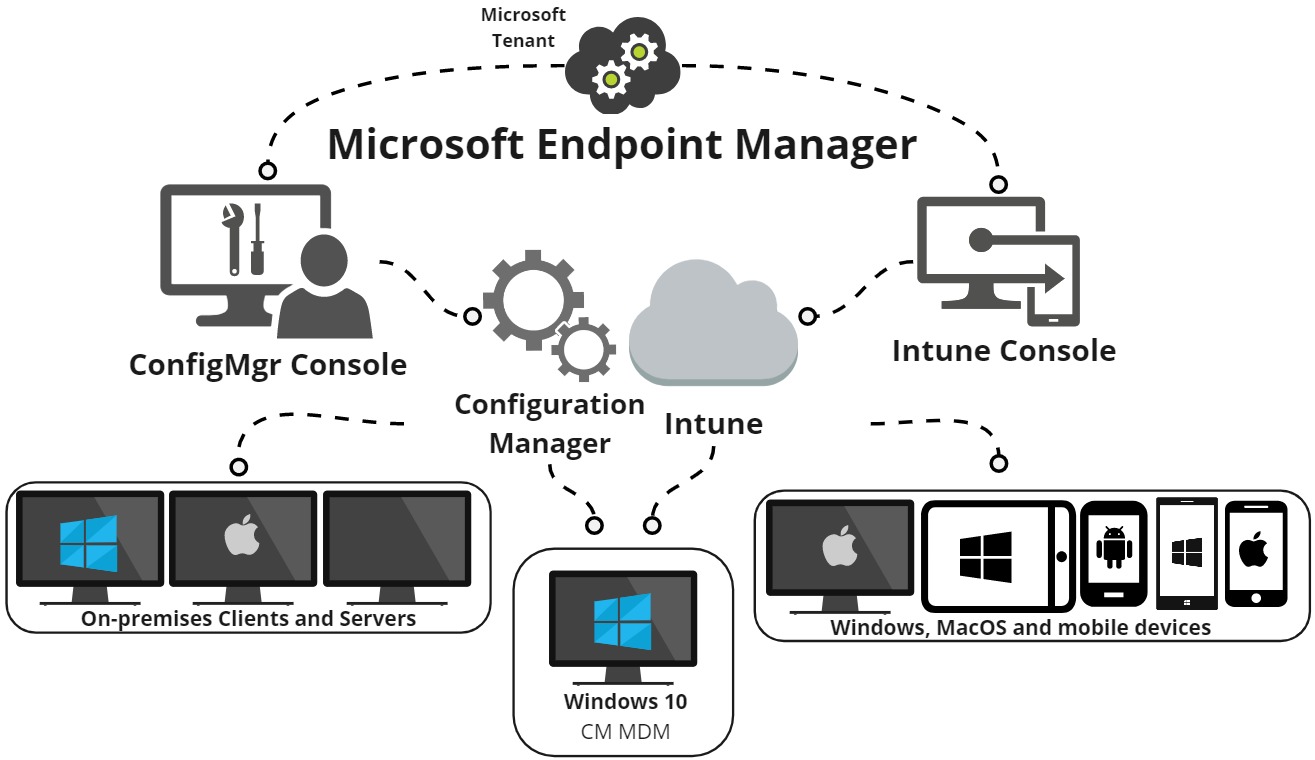 Unified platform including both Configuration Manager and Microsoft Intune.
Microsoft Intune
Cloud-based services that focuses on mobile device management (MDM) and mobile application management (MAM).
You control how your organization's devices are used, including mobile phones, tablets, and laptops. You can also configure specific policies to control applications.
With Intune, you can:
Choose to be 100% cloud with Intune, or be

 co-managed 

with Configuration Manager and Intune.
Set rules and configure settings on personal and organization-owned devices to access data and networks.
Deploy and authenticate apps on devices — on-premises and mobile.
Protect your company information by controlling the way users access and share information.
Be sure devices and apps are compliant with your security requirements.
Configuration Manager
Configuration Manager brings on-premises endpoint management to you desktops, laptops and servers including automated imaging, updating and application deployment.
Use Configuration Manager to help you with the following systems management activities:
Increase IT productivity and efficiency by reducing manual tasks and letting you focus on high-value projects.
Maximize hardware and software investments.
Empower user productivity by providing the right software at the right time.
Configuration Manager helps you deliver more effective IT services by enabling:
Secure and scalable deployment of applications, software updates, and operating systems.
Real-time actions on managed devices.
Cloud-powered analytics and management for on-premises and internet-based devices.
Compliance settings management.
Comprehensive management of servers, desktops, and laptops.
Co-management
Configuration Manager + Intune
Co-management enables you to manage Windows 10 devices by using both Configuration Manager and Microsoft Intune – using the benefits of both services.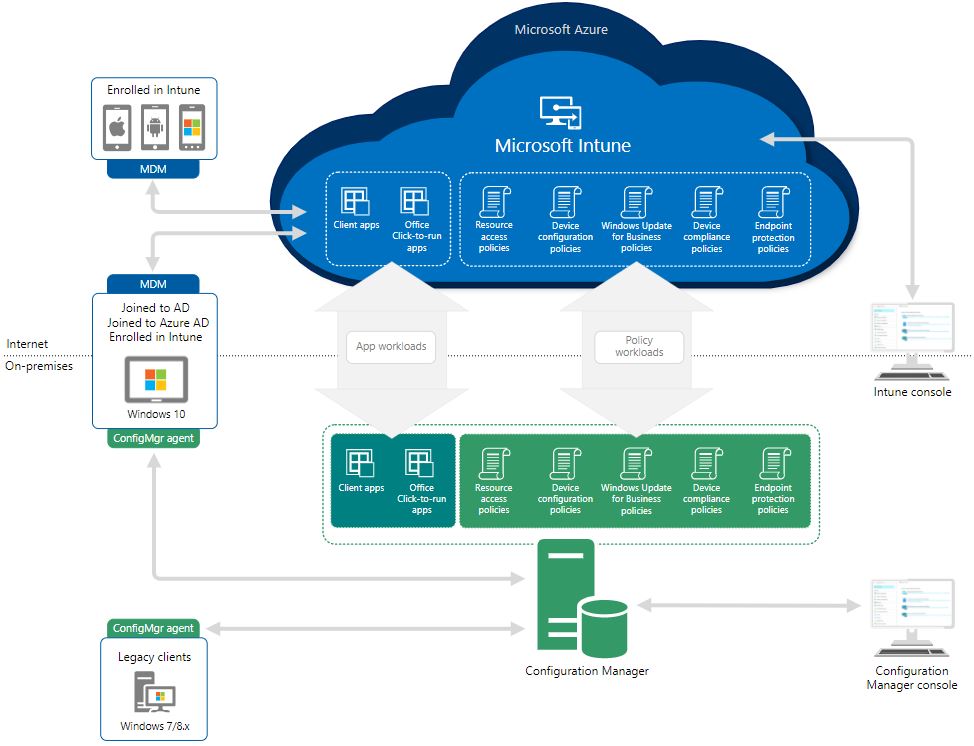 When you enroll existing Configuration Manager clients in co-management, you gain the following immediate value:
Conditional access with device compliance

Intune-based remote actions, for example: restart, remote control, or factory reset

Centralized visibility of device health

Link users, devices, and apps with Azure Active Directory (Azure AD)

Modern provisioning with Windows Autopilot

Remote actions
Safari Micro IT Services
Good endpoint management is revolutionary and vital to IT practices but setting up a solution can be complicated and takes time, effort, and training. However the Safari Micro ITS team is here to help. As a proud Microsoft gold partner, our engineers have years of experience in deploying Microsoft solutions such as endpoint management through Configuration Manager and Intune to organizations of all sizes.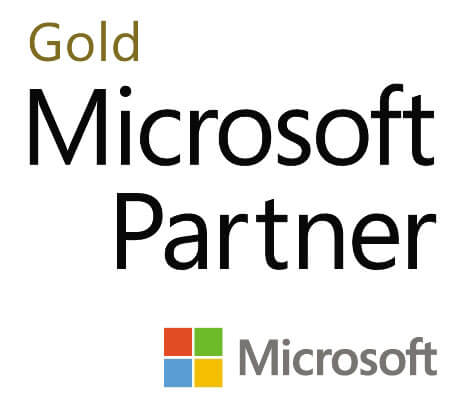 Connect with an expert to see how we make a difference in your IT strategy